In the working environment, people need to sit and work for a long time. So many people start to choose to buy ergonomic chairs that can fit the natural shape of the human body. They hope ergonomic chairs can help them reduce fatigue and protect their lumbar spine from damage at work. But why do you still have lumbar pain after sitting in an ergonomic chair?

Why do people still have lumbar pain after having an ergonomic chair?
That is because people always sit in the wrong sitting positions. Some postures look relaxed and comfortable. But in fact, wrong sitting positions will let the entire waist be in a suspended state and uneven hip force, the spinal pressure is nearly 2 times when standing.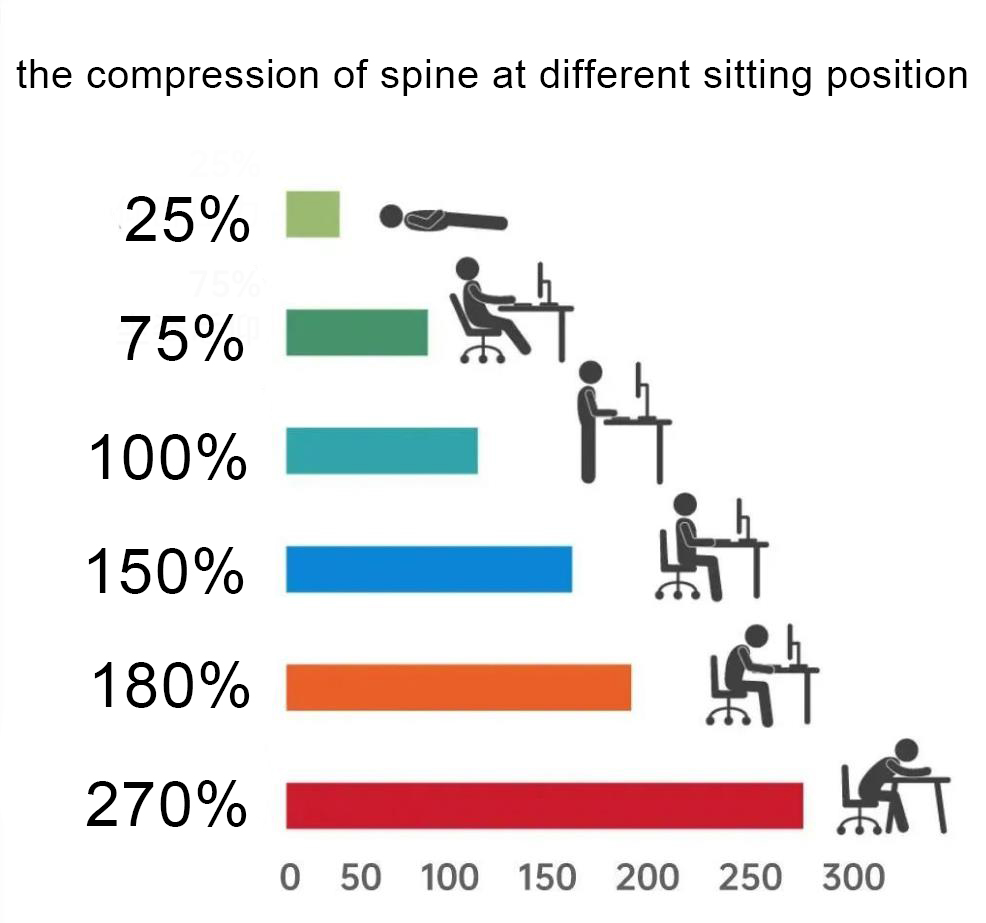 The above picture shows the weight analysis of the spine by the four most commonly sitting postures (sitting stooped forward, sitting bent forward, sitting up straight, and sitting backward). On the one hand, you should avoid two sitting postures (sitting up straight and sitting forward). Sitting backward is preferably healthy and comfortable. In addition, from the practical point of view, in the real work environment, people have to often sit forward or sit up straight. I suggest you sit in the backward sitting posture more often, to improve the lumbar spine and protect low back muscles.
How to properly sit at a computer?
*Hip solid should sit on a chair surface for full coverage.
*Hips and waist back against the back of the chair naturally and completely. Let the backrest play a role. You also need as far as possible to sit in the backward sitting position.
*In particular, let your waist close to the lumbar support. You should not let your waist hang. If the lumbar backrest is not very suitable for the seat, you can add a lumbar cushion to adjust it.
*After a long sitting, from time to time, you should consciously move the body, and adjust or change the sitting posture, like standing up and walking around. You should not sit in the same sitting posture for a long time.
There is no standard for ergonomics
Ergonomics has been studied systematically since the 1950s and consists of six sub-disciplines including anthropometry, biomechanics, labor physiology, environmental physiology, engineering psychology, and time and work studies.
But there is no standard for ergonomics. Because every person has a different work environment, different height and weight, different body proportions, and different work content. It is impossible to develop a standard to fit everyone.
Conclusion
No matter how perfect the design of ergonomic office chairs has, there is difficult to create a perfect ergonomic chair to suit all people. Users need to adapt to the chair and remember to maintain a correct sitting position.